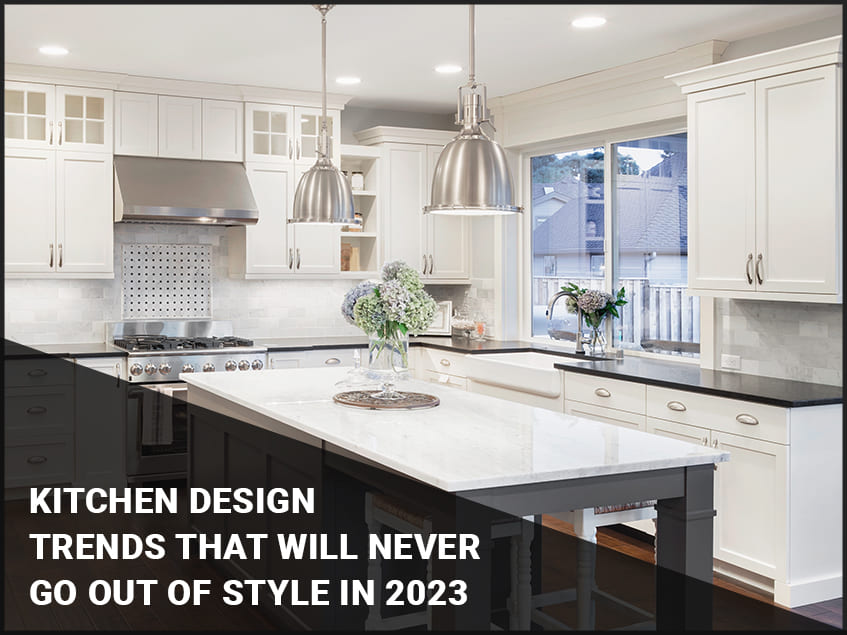 03 May

Latest Kitchen Cabinet Trends That Will Never Go Out of Style In 2023

Kitchen design trends have evolved over the years, with each passing year bringing new ideas, styles, and innovations. However, many trends have come and gone. In 2023, it's important to understand the latest kitchen design trends that are here to stay. In this article, we will look at some popular kitchen design trends from the past few years and what we can expect in 2023.
Past Kitchen Design Trends
Kitchen design trends have come a long way through time. From the traditional farmhouse kitchen looks to the sleek modern designs of today, there have been many popular kitchen design trends over the years. Let's take a look at some of the trends that have been popular in recent years:
2019 – Dark Kitchens: In 2019, dark kitchens with black cabinets and countertops were all the rage. Black and white kitchens were a hit, with matte finishes and minimalistic designs. This trend brought a sense of drama and sophistication to the kitchen.
2020 – Open Shelving: In 2020, open shelving became popular, with homeowners looking for more storage options and opting for open shelving instead of upper cabinets. We also saw more natural elements and earthy tones come into play, with sustainability being of importance. These trends gave the kitchen a more open and airier feel, while also prioritizing durability in the kitchen.
2021 – Two-Toned Kitchens: Two-toned kitchens were a popular trend in 2021. This trend involved using two different colors for the upper and lower cabinets, creating a unique and stylish look.
2022 – As for 2022, the Cabinet Showroom blog post about kitchen design trends highlighted the following trends:1. Dark Colored Kitchens
2. Glass Cabinet Doors
3. Bold Accent Walls
4. Smart Kitchens
5. Minimalistic Design
6. Mixing Metal Finishes
The New Year Trends
In the new year of 2023, there are several kitchen design trends that are expected to be popular. Homeowners are looking to prioritize functionality and sustainability in their kitchen designs. This leaves many design options that would work well in the kitchen. Let's take a look at some of the kitchen design trends that will never go out of style:
1. Classic White:

Classic white kitchens will always be in style. White is a timeless color that can make any kitchen look clean, bright, and spacious. White cabinets have been a staple in kitchens for decades, and they are a trend that is here to stay.
2. Minimalism:

Minimalism has been a popular design trend for several years now and is expected to continue into 2023. Minimalist kitchens are all about simplicity, clean lines, and a clutter-free environment.
3. Mixed Materials:

Mixing materials such as wood, metal, and stone is a trend that will continue in 2023. Bringing uniqueness to the home can be hard but mixing materials can give your kitchen depth and visual appeal, which many homeowners love. It adds texture and interest to the kitchen.
4. Smart Appliances:

Smart appliances have been around for a while but are becoming more popular in 2023. These appliances offer convenience, energy efficiency, and innovative features that make cooking and cleaning easier.
5. Kitchen islands:

Kitchen islands are a fan favorite and a must-have in any modern kitchen design. They will continue to be a trend in 2023 because of its multiuse and added convenience. Not only do they provide additional storage and counter space, but they also serve as a focal point for the room. In 2023, expect to see kitchen islands that are larger and more functional than ever before, with built-in appliances, cabinets, shelving, wine racks, seating, and ample storage space.
2023 Kitchen Cabinet Trends
When it comes to kitchen cabinets, the door style can make a big impact on the overall kitchen design. There are several popular door styles to choose from, including:
1. Raised Panel:
Raised panel doors have a more decorative look and are often used in traditional and transitional kitchens.
2. Flat Panel:
Flat panel doors have a sleek, modern look and are often used in contemporary kitchens. We find that many family homes tend to gravitate towards this cabinet trend, and it doesn't look like that's changing in 2023.
3. Glass-door inserts:
Glass door inserts are gaining popularity as they allow homeowners to get a peek into what they have stored in the cabinet without having to open it and take things out. They are an elegant addition to a kitchen cabinet and can accentuate any cabinet design well.
4. Shaker-Style Cabinets:
Shaker-style cabinets are a classic design that has been around for over 200 years. They are simple, elegant, and functional, making them a popular choice for homeowners.
FAQs:
What are the current trends in the design of kitchen cabinets?
The kitchen design world has been gravitating towards clean, minimalist styles with simple lines and streamlined hardware. There is also an emphasis on functionality, with cabinets designed to maximize storage and make the most of available space. Shaker-style cabinets remain popular, as well as flat panel cabinets. In terms of materials, natural woods remain a popular choice, but painted cabinets in white, gray, and other light neutral colors are also a trend.
What is the latest color trend for kitchen cabinets?
In 2023, you can expect to see classic and timeless white cabinets, as well as matte black finishes to complement. Darker colors such as navy blue, black, and dark green are also popular. These darker, moody colors can add depth and drama to a kitchen design, and work well with a variety of other colors and materials giving homeowners range. However, lighter neutral colors such as white, gray, and beige remain classic choices as well.
What are the acrylic kitchen cabinet trends?
Acrylic kitchen cabinets are popular for their sleek, modern look. Acrylic kitchen cabinet trends include the use of high gloss finishes and bold colors such as red, orange, and yellow. These cabinets are sleek and modern-looking, with a high-end appearance that can elevate the overall design of a kitchen. They are also easy to clean and maintain, making them a popular choice for busy households.
What are the latest styles of kitchen cabinets?
The latest styles of kitchen cabinets include flat-panel doors with minimal hardware, open shelving, and glass-front cabinets. These designs emphasize functionality and clean lines, while focusing on creating a modern look. Traditional styles such as shaker and raised-panel doors also remain popular.
What is a popular kitchen cabinet design?
A popular kitchen cabinet design is the single-wall layout, which features cabinets and appliances arranged along a single wall. This design works well in smaller kitchen spaces or open concept kitchens and can be customized to suit a variety of styles and preferences. Other popular designs include U-shaped and L-shaped layouts, which offer more counter space and storage options.
What are the latest trends in modular kitchens?
The latest trend in modular kitchens is the use of sustainable materials, smart storage solutions, and integrated appliances. Modular kitchens are designed to be flexible, adaptable, and functional, while allowing homeowners to customize their space to suit their needs and lifestyle. Other popular trends include the use of natural and textured materials such as wood and stone, as well as bold colors and patterns for an eye-catching look.
Conclusion
Overall, what makes a kitchen design stay in trend is its versatility and functionality. Homeowners want to know that they're growing with their home, not out of it. The kitchen design trends that will never go out of style in 2023 are the minimalist look, kitchen islands, mixed materials, classic white designs, and smart and energy-efficient appliances. If you're looking for inspiration for your kitchen design, then Cabinet Showroom is a great place to start. They offer a wide range of cabinet styles, colors, and finishes, as well as design services to help you create the perfect kitchen for your home.