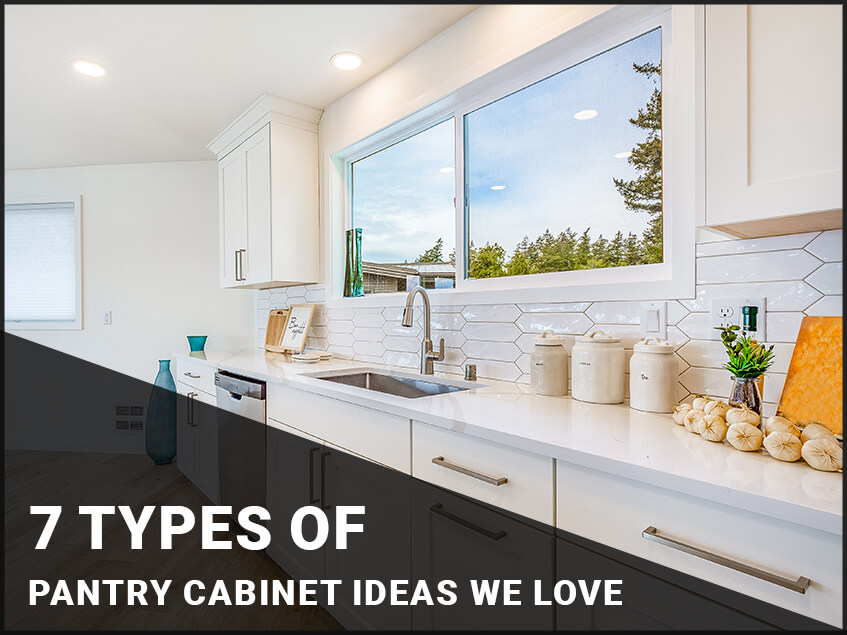 01 Mar

7 Types of Pantry Cabinet Ideas We Love

Transforming your kitchen space can be as simple as replacing those outdated kitchen cabinets. Renovating your entire kitchen can get expensive and when you're on a budget, finding little ways to improve your space can make all the difference to your wallet. Renovating just your cabinets could save you money and create a whole new kitchen design. But finding the next new kitchen trend can be a task itself, so we put together 7 kitchen pantry cabinet ideas that we are obsessed with!
1. Pull Out Pantry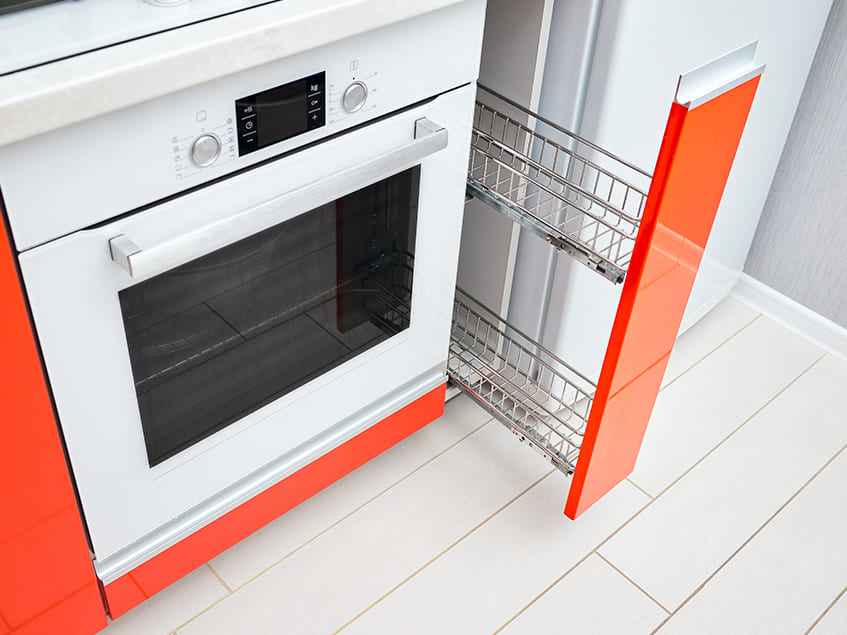 Pull out pantry cabinets make pantry storage a little more accessible in the kitchen. This pantry style is usually a tall and narrow storage space that features a pull-out shelves, drawers or baskets. Instead of having to reach deep into a dark cabinet to find what you need, you can simply pull out the shelves or baskets to access everything easily. There are several of benefits that come from this style pantry, here are a few:
Improved accessibility: Pull-out pantries make storage more convenient by allowing you easy access to your kitchen items.
Customizable shelves: Pull out pantries allow for you to customize the shelving type to fit your home and kitchen items. This means that you can adjust each shelf to fit your storage space and personal needs. Also, making them a select option for smaller kitchen layouts. Choose between pantry baskets, trays, cabinets, or drawers.
Aesthetically pleasing: Many homeowners enjoy that the pull-out pantry cabinet is an eye-catcher but also simple enough to not stand out too much. And because the shelves are customizable, it is easy to coordinate your shelving design to match your home décor.
2. Adjustable Wire Pantry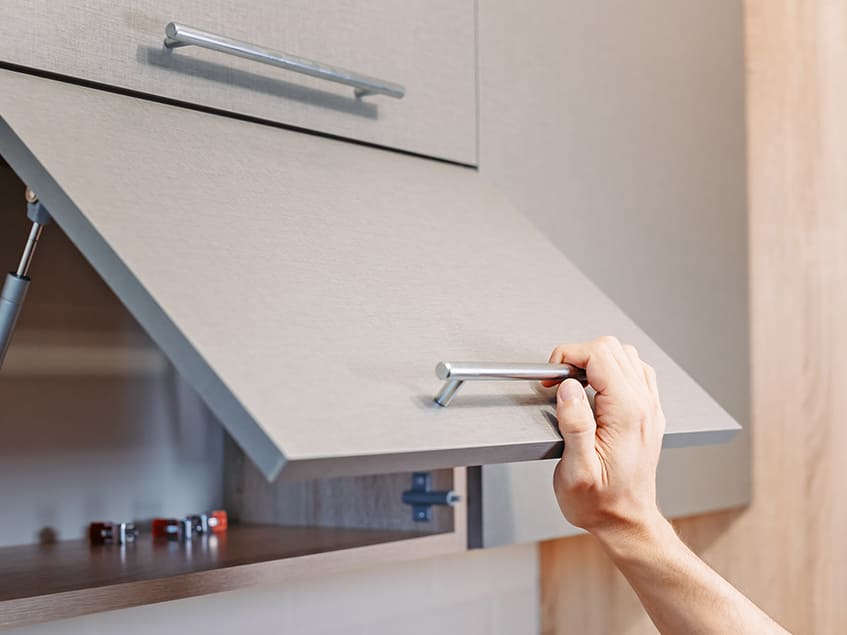 The modern and minimalistic look is in this year, which is why the adjustable wire pantry is at the top of our list. This style pantry is typically made of metal wire and full of storage options. It consists of several shelves that can be adjusted to different heights to accommodate items of varying sizes. This pantry storage cabinet style comes with many benefits, here are a few:
Better Storage: Adjustable wire pantries are open air, wiring shelving which makes it a great option for storing items that need natural ventilation or must be kept at room temperature, such as fruits and vegetables.
Customizable Storage: One of the best benefits of the adjustable wire pantry is the flexibility that comes as a result of its wire design. It allows for you to customize how you like your storage space, by easily moving the shelves to your liking.
Durability and Maintenance: It's unique design, also allows for minimal cleaning and overall durability. This shelving style is optimal for long term storage.
3. Freestanding Cabinet Pantry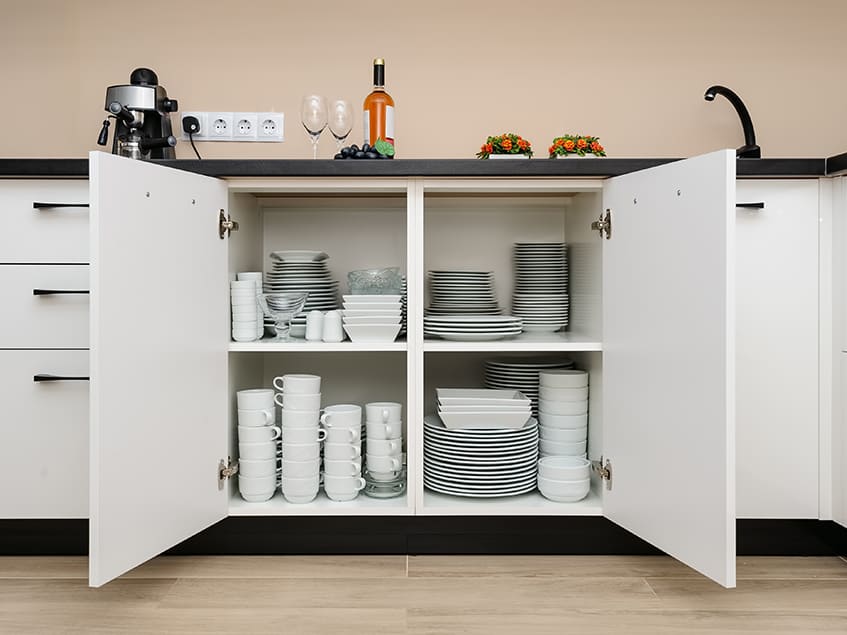 Freestanding pantries are a popular choice because of its versatility and easy maneuvering features. A freestanding pantry is unique because unlike most pantries, it is not built into a wall or cabinet space, but instead it stands alone as a single unit and can be moved around or repositioned as needed. It typically consists of a set of shelves or cabinets that are mounted on a frame. It may also include doors, drawers, or other features that are customizable, to help keep food and other items organized. This easily adaptable pantry is easily a fan favorite.
Here are some of the benefits from utilizing this pantry style:
Versatility: A great benefit of freestanding pantries is that they can be designed in a variety of sizes and styles to fit different kitchen and storage spaces.
Material Options: A great feature of this pantry is that they can be made from a various material, such as wood, metal, or even plastic.
Customizable finishes: You can customize this pantry style to your home décor or spice it up with accents and finishes to add personality to your kitchen area.
Portable: The best benefit from this kitchen pantry style is its ability to maneuver. No more crowding up the kitchen area. With this pantry, you can move it around the kitchen or house even, for a versatile storage solution, at your convenience.

 
4. Camouflaged Pantry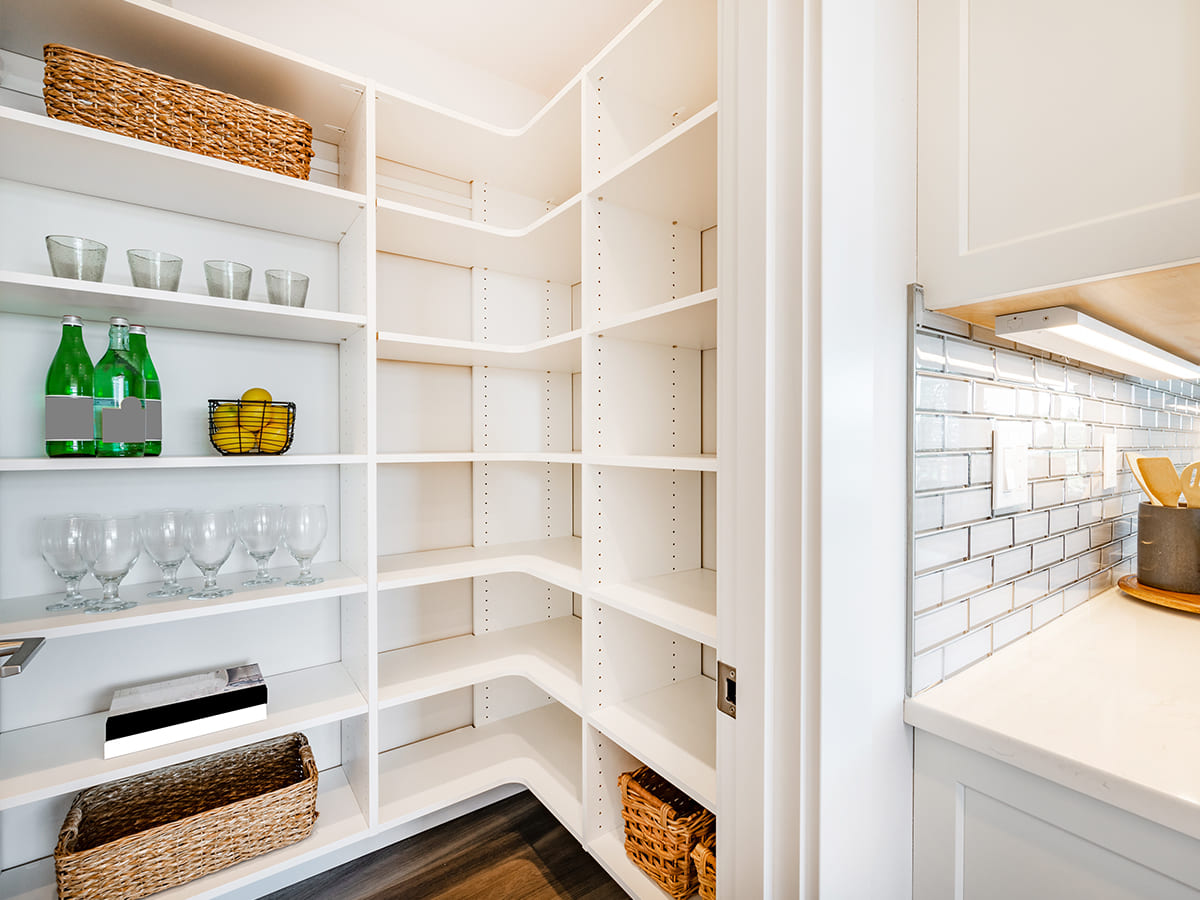 A more discrete pantry design option is the camouflaged pantry. This pantry type is designed to be less noticeable or even invisible by blending in with the wall space or its surroundings. The idea is to hide the kitchen pantry from view, so that it doesn't distract from the overall aesthetic of the kitchen or disrupt the flow of the kitchen space. If you're accustomed to hosting parties or guest often, then this could be an ideal choice for your home. There are a few ways to accomplish this look. One option is to naturally blend the pantry into the surface space by building your it into a wall, or using a preinstalled bookshelf. Another option is to use patterns to camouflage your space, such as wallpaper or vinyl wrap. Some benefits of this pantry are:
Optimize Storage space: This pantry style makes a great option for smaller kitchen areas, by freeing up the visual aesthetic of your kitchen. Because the pantry is concealed behind cabinet doors, you can use more of your kitchen wall space for cabinetry, rather than for a separate pantry area.
Convenience: Camouflaged pantries make meal prep and cooking simpler by providing easy access to your cooking items, allowing you to work efficiently in the kitchen.
Increased House Value: Camouflaged pantries are such an attractive modern pantry choice, that they could benefit your property value. Potential buyers will appreciate the extra storage space and organization options in the kitchen, making your home more attractive to potential buyers.
5. Butler's Pantry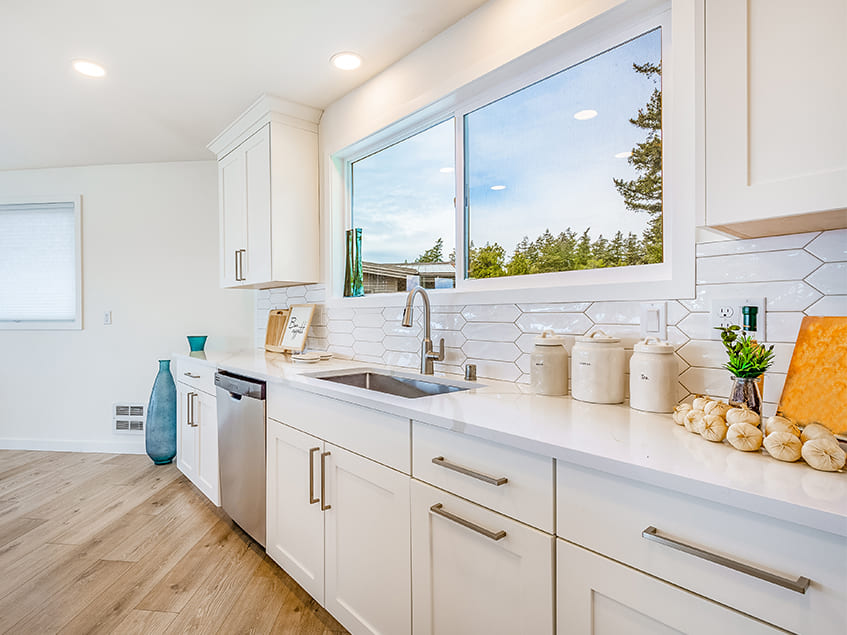 A more elegant and lavish aesthetic style pantry is the butler's pantry. This pantry usually contains its own separate room between the kitchen and dining room of a home. This dedicated space is typically a small room that is used for storing and preparing food and kitchen items. You can often find appliances installed into this pantry look, that may include a sink, dishwasher, mini- refrigerator, or more kitchen appliances.
Because the Butler's pantry is so versatile, it offers many designs and layouts, so no one pantry will look the same. The designs can be found in a variety of styles and offers many material options. Depending on the needs and preferences of the homeowner, often the pantry can include shelves or cabinets which can be both permanent or adjustable. The materials may feature woods, metals, granites, marbles or quarts, depending preference and budget. These pantries typically contain a serving station or countertop for additional counterspace. Some butler's pantries may also include special features like a wine refrigerator, coffee maker, or other appliances for personal convenience.
A butler's pantry is a popular pantry choice because it provides many benefits, here are a few:
Private Storage Space: The Butler's pantry creates a separate designated storage space for food, kitchen items, and even appliances if needed.
Made for Bigger Kitchen: Though this pantry style may not fit into all kitchen sizes, they are perfect for bigger style kitchen layouts because they help fill up space and optimize your home design. So, if you have the extra space, you won't great this pantry choice.
Efficiency: Because the butler's pantry offers a designated space to meal prep and store kitchen items, it provides a level of efficiency that other pantries don't. Instead of cluttering up your kitchen counter, this pantry style allow you a specific space, separate from your kitchen, to prepare food and drinks for guest. This allows you to optimize your kitchen counterspace.
6. Reach in Pantry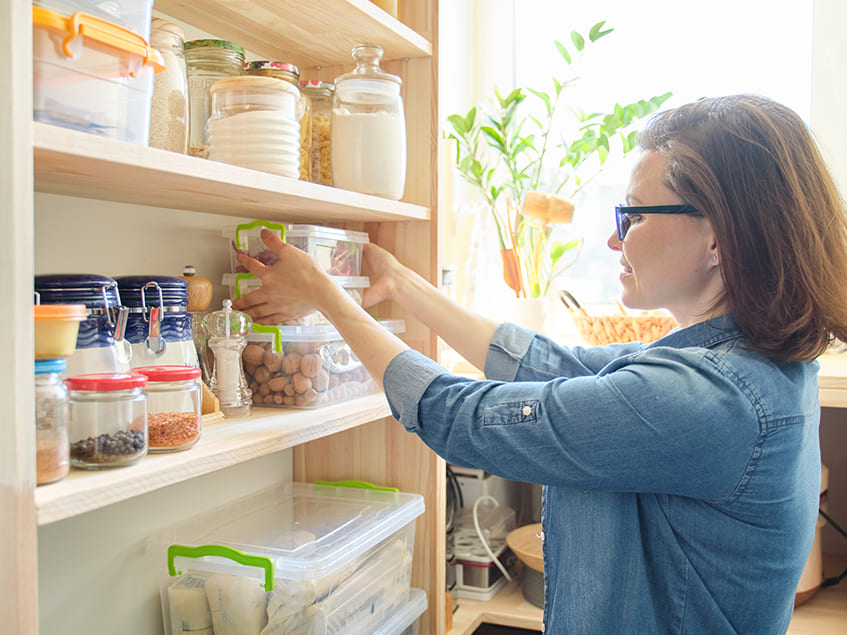 A reach-in pantry is designed to be easily accessible. It typically consists of a set of shelves that are built into a closet. And much like many other pantries, the reach – in pantry style can also be customized to fit your liking and storage needs. Here are some benefits from choosing this pantry style:
Functionality: With this pantry, you can make your space more functional and rely on your kitchen being clutter free.
Space Optimization: A reach-in pantry can help optimize your kitchen space by using a compact space to store pantry items. Now, you can free up space in other areas of your kitchen, making it easier to move around and work efficiently.
Customizable Design: With a variety of designs and finishes available, you can select a pantry that complements the look and feel of your kitchen. Go with a matte or polished look and customize your pantry to fit your kitchen aesthetic.
7. Walk-In Pantry
Walk- in pantries are a popular because they're ideal for modernly elegant homes. It's a luxury option for storage, that most homeowners appreciate. Walk-in pantries are usually large spaces that allow you to walk inside and easily access and organize food and other kitchen items. This pantry room or closet becomes the heart of your storage needs and can be customized to your design liking. Choose to organize with shelving, drawers, or even cabinets, which are usually built into the walls of the walk-in pantry. Check out some benefits with choosing this pantry:
Optimized Storage Space: One of the best benefits of a walk-in pantry is that it provides ample storage space for food and other kitchen items, while also helping to keep your kitchen organized and free of clutter. With a dedicated space for storing pantry items, you can free up valuable counter and cabinet space in your kitchen, making it easier to keep your kitchen clean and functional.
Customizable: There are many ways to customize this pantry design. A popular choice is adding a prep table or countertop for food prepping or just to have additional counterspace, to make your pantry more accommodating to your kitchen needs.
Longer Storage: This pantry style allows for more storage space, which means more space for non-perishable items to reduce food waste.
There are so many kitchen cabinet pantry options to consider, as you can see, and they all offer unique benefits. Having that additional storage space is a great benefit that all pantry styles offer, but it truly depends on your personal kitchen needs and preference. Kitchen size is also important to consider when renovating for a new kitchen cabinet pantry design. Keep in mind that the goal is for your kitchen to provide more accommodating features and accessories, to make life simpler in the kitchen. So, when considering a new kitchen pantry, think about the additional features that can come with adding the pantry, consider your budget, and how your pantry cabinets can complement your home décor. Choosing the right cabinet manufacturer is a crucial choice in renovating as well. Whatever your cabinet pantry choice, you want to make sure that your cabinets are made of quality and durability. Cabinet Showroom is dedicated to providing quality cabinets at affordable pricing. And our team of experts are here to help you through your renovation project from start to finish. So, on your next big or small renovation project, go with a cabinet company that cares about your home, like Cabinet Showroom. Hopefully, our kitchen cabinet pantry ideas helped you along the way!
FAQ's: