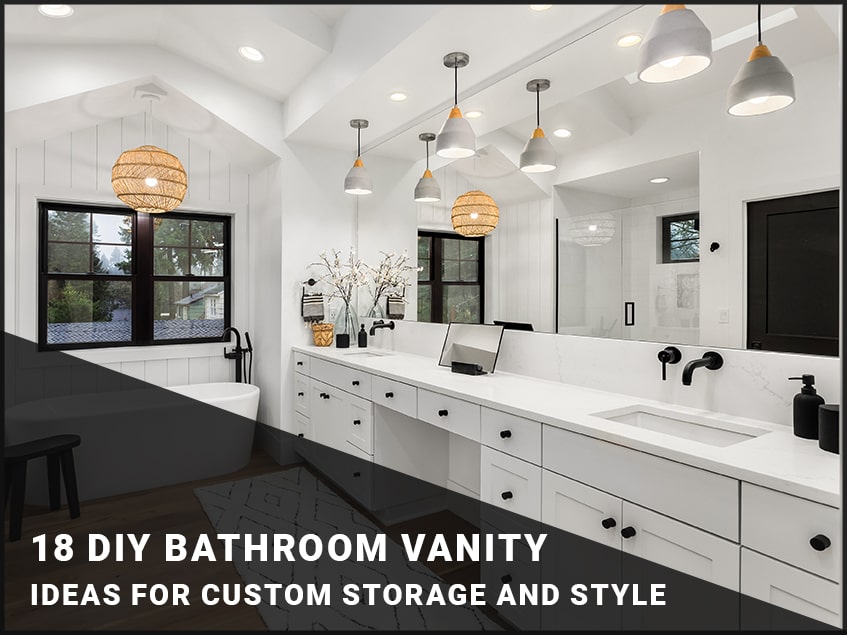 31 Jan

18 DIY Bathroom Vanity Ideas for Custom Storage and Style – Cabinet Showroom

Home renovation requires a lot of planning and consideration before taking on the tasks and hiring contractors to take on those home renovation projects can be very pricey. But, if you're into DIY projects, a great way to cut the cost of renovating is taking on the project yourself. Now, we know that can sound a bit intimidating if you're new to the redesign world, but Cabinet Showroom is giving you 18 DIY Bathroom Vanity Ideas, to help you on your journey to finding your dream bathroom setting.
1. DIY Inserted Cabinet Vanity
A great way ensures some extra storage space is by inserting cabinets into your bathroom vanity. You can make it fancy and opt for framed glass cabinet doors or go the traditional route with natural wood cabinets or colored wooden cabinets.
2. Furniture Vanity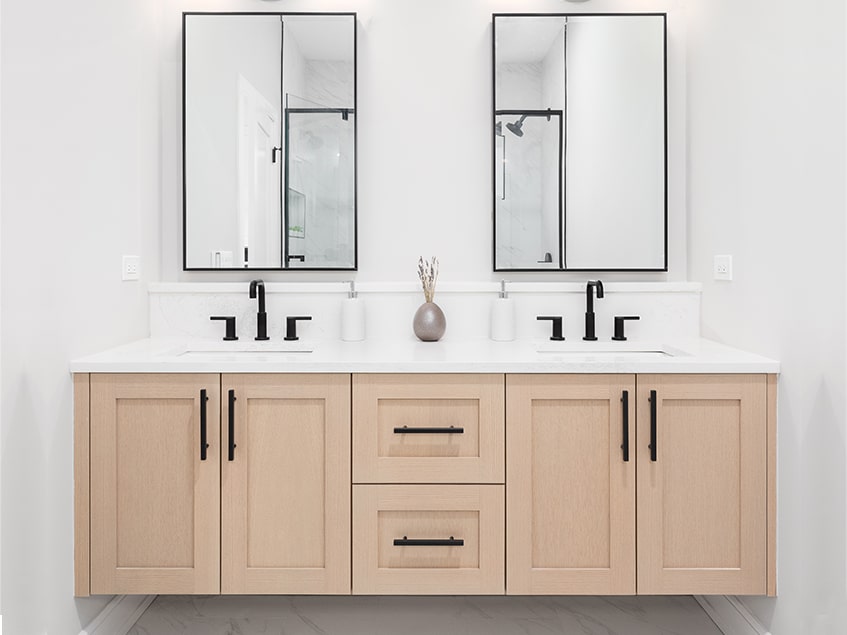 Getting rid of old furniture isn't always necessary. You can transform your old furniture into new accessory pieces for your bathroom upgrades. Turn an old dresser or console into a brand-new stunning bathroom vanity or accessory drawer. Just add a fresh coat of paint, with new appliance and hardware, and you're all set!
3. Wood Bathroom Vanity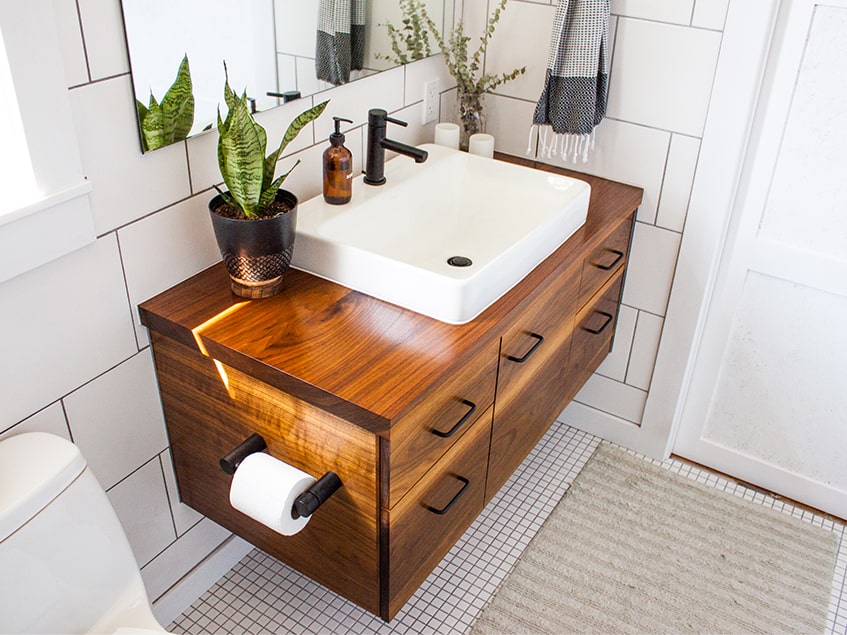 Choosing natural wood colors is always a good choice for a homey stock look. Your Vanity can be any color wood or even consider an old wooden table to center as your vanity piece.
4. Colorful Vanities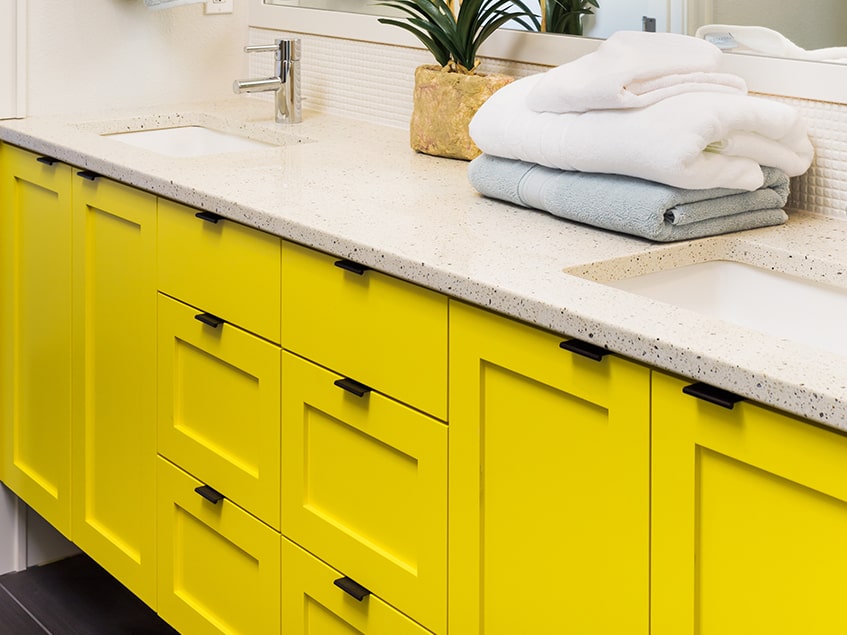 Adding color to your bathroom can be a great way to add personality into your design. Get colorful with your bathroom vanity by going with bright colors. Keep in mind your hardware, appliances and decorum must coordinate, but you can always pair up a nice pattern to pair with your color choice. /
5. Glamourous Bathroom Vanity
Glitz and glamour always make a girl feel better! So, choosing this style in your bathroom is sure to create an atmosphere any woman would love. Turning a dresser drawer into your main vanity piece is a good way to save money while still creating an expensive look. Paint your vanity piece and convert your countertop space with a marble slab, then pair it with a decorative mirror and jeweled hardware. This look will be the showstopper of your home.
6. Traditional Bathroom Vanity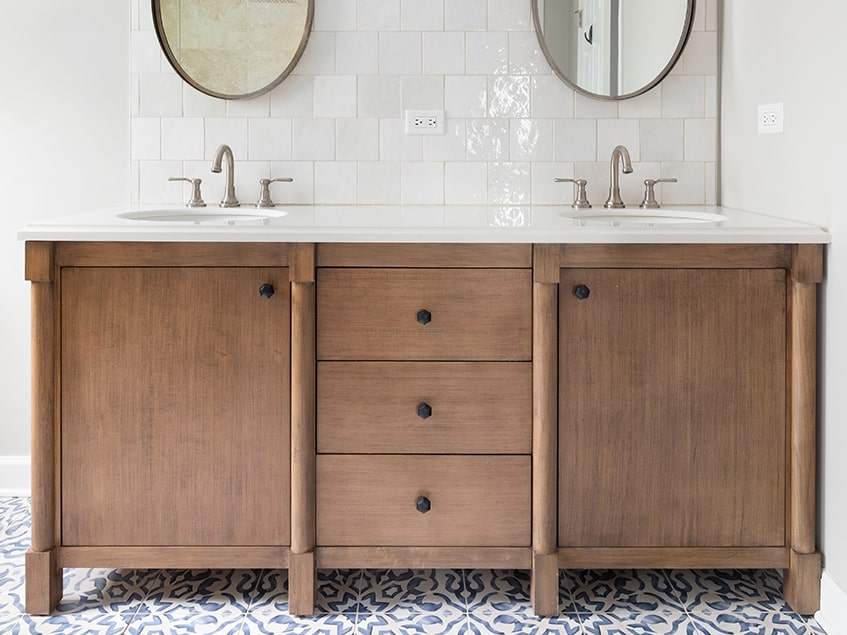 DIY traditional bathroom vanity projects involve building or repurposing a bathroom vanity from scratch using traditional woodworking techniques and materials. This can include using hardwoods like cherry, oak or maple, as well as traditional joinery methods such as dovetails, mortise-and-tenon, or tongue and groove. You can also keep in mind some traditional furniture styles such as a Louis XVI or Georgian.
7. Rustic Nightstand
A rustic bathroom vanity typically features a natural, rough-hewn look and a style that evokes a sense of warmth and coziness. They often incorporate reclaimed materials like barnwood, pallet wood or reclaimed door, or feature a distressed or weathered finish. If you're not into these reclaimed Incorporations, try using rustic design elements such as metal hardware, knotty pine, or a distressed finish. Some other ideas for this look are:
Creating a vanity with a natural edge slab of wood for the countertop.
Using metal pipes or reclaimed metal for the legs of the vanity.
Creating a vanity with an open shelving design for a more rustic feel.
Using a rustic painting technique like a distressing or glazing to give the vanity an aged and rustic look.
8. Floating Shelf Bathroom Vanity
A floating shelf bathroom vanity is a type of bathroom cabinet that is installed on the wall, rather than being anchored to the floor. It typically features a countertop and a set of shelves or drawers for storage, and has a minimal, modern design aesthetic. This can include using a variety of materials such as wood, metal, or concrete and incorporating design elements such as open shelving, hidden storage compartments, or minimal hardware. Creating a floating shelf vanity with a built-in medicine cabinet for added storage. Using floating shelves to create a vanity that can be easily customized and expanded as needed.
9. Vintage Desk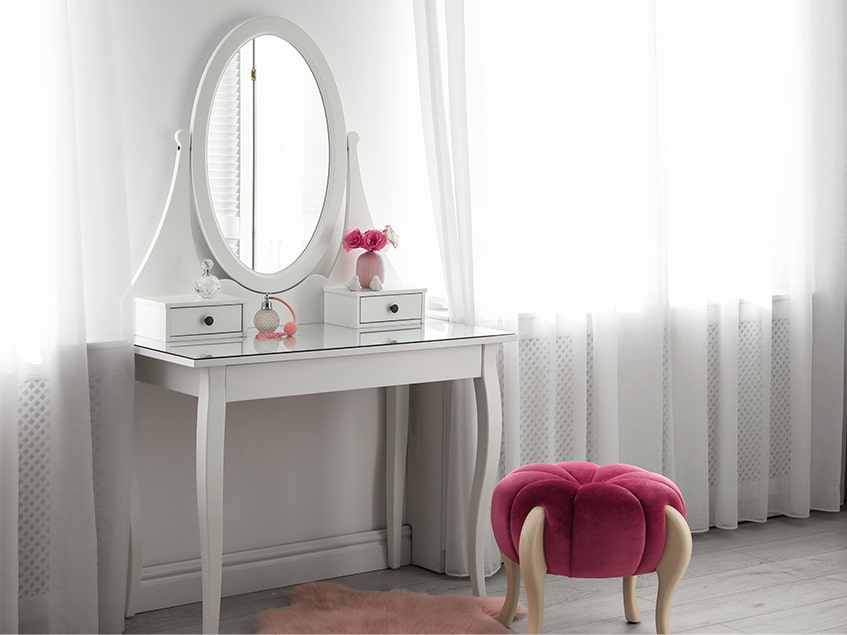 A vintage desk for a bathroom vanity is one of the simplest ways to approach this style. Repurposing an old desk, typically one that has a unique style or character, is great for achieving an antique style in the bathroom. Distressing the desk or painting it with a vintage finish to give it a more vintage look and incorporating vintage hardware, such as outdated knobs, pulls or hinges will complete this look. You can even enhance it will other vintage elements like a old-fashioned faucet or vintage mirror.
10. Matte Vanity Cabinet Fronts
DIY matte vanity bathroom cabinet fronts are a popular trend in bathroom design that involves updating the cabinet fronts of an existing bathroom vanity to give it a sleek, modern look with a matte finish. Instead of using traditional glossy or shiny finishes, matte finishes are used to create a more sophisticated look. To kick this modern look up a notch, try incorporating matte hardware into your cabinets or using a contrasting color to compliment the matte finish and create a more interesting look.
11. Vanity with open Pipes
A vanity with open pipes incorporates exposed pipes into the style and design of the vanity. This industrial style can also go for a modern-minimalistic look. If you're specifically looking for more storage space, you can create a vanity with an open shelf or shelves that are designed to show off the exposed pipes. A few ways to accomplish this look are:
Painting the exposed pipes in a contrasting color
Using reclaimed metal
Creating a vanity with a built-in towel bar or hooks that are made from exposed pipes.
12 Modern – Minimalist Luxury Vanity
A minimalist luxury vanity is one of the more simpler DY challenges. Its minimalistic design is highlighted with high-end finishes and materials to create a luxurious and sophisticated look. This type of vanity is characterized by clean lines, simple shapes, and a focus on high-quality materials and finishes. Some suggestions for this design are:
Incorporating minimal hardware such as hidden brackets, to complete the floating shelf vanity.
Creating a vanity with a built-in towel rack or hooks made of high-end materials like brushed nickel, chrome or brass.
Incorporating a freestanding bathtub and matching the vanity with the same countertop material
13. Farmhouse Vanity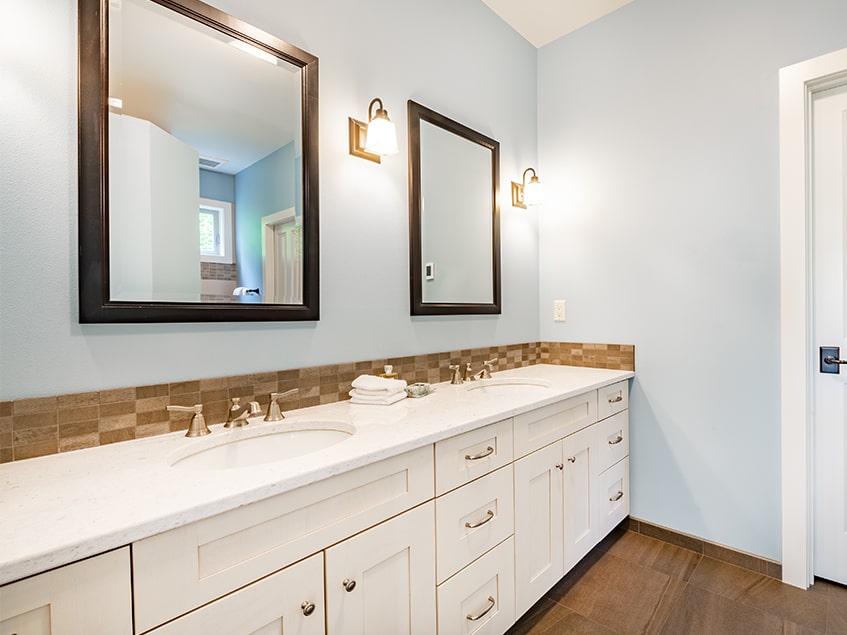 With a farmhouse design you want elements of a traditional farmhouse, such as reclaimed wood, rustic finishes, and vintage hardware. This type of vanity can add a warm and welcoming feel to the bathroom, giving it a cozy and inviting setting. You can use a vessel sink, which will sit on top of the vanity, to compliment the look.
14. New and Vintage Vanity
A new and vintage vanity bathroom combines elements of both new and vintage design to create a unique and eclectic look. This type of vanity can add character and charm to the bathroom and can be a great way to give an older bathroom a stylish update. Using a new bathroom vanity with lights and a sleek finish, with vintage accessories such as dispenser or towel rack or tissue holder, is a great way to combine the two styles.
15. Corner Vanity
Corner vanities are designed to fit into a corner of the bathroom, making it a great option for smaller bathrooms or bathrooms with limited space. This type of vanity can be a great way to maximize space and make the most of the available area in the bathroom. Some suggestions for this look are:
Using a pre-made corner vanity cabinet and customizing it by adding new countertops, hardware, or paint.
Adding a corner storage unit or shelving to the vanity to maximize space
Using a pre-made corner vanity cabinet and adding a reclaimed wood countertop to give it a rustic feel
Using a floating corner vanity, which is mounted to the wall and can be adjusted as per the space.Top of Form
16. Vanity with open shelving
This type of bathroom vanity includes open shelving or storage spaces, rather than closed cabinetry. It's a great way to add storage and organization to the bathroom, while also creating a modern and minimalist look. Incorporating a floating shelf, which is mounted to the wall, above the vanity and can be used as an open storage or a display area. You can also use a combination of open and closed storage, such as a combination of open shelves and drawers or closed cabinetry.
17. Vanity with cubbies and custom shelving
A DIY vanity with cubbies and custom shelving is a type of bathroom vanity that includes cubbies and custom shelves, rather than traditional closed cabinetry. This type of vanity can be a great way to add storage and organization to the bathroom, while also creating a unique and functional look. To make things a bit simpler, you can use a pre-made vanity and customizing it by adding cubbies and custom shelves to the sides or above the vanity. Incorporating a combination of cubbies and custom shelves, such as cubbies on the bottom and shelves on the top of the vanity, is also a good idea.
18. Bathroom Vanity with sink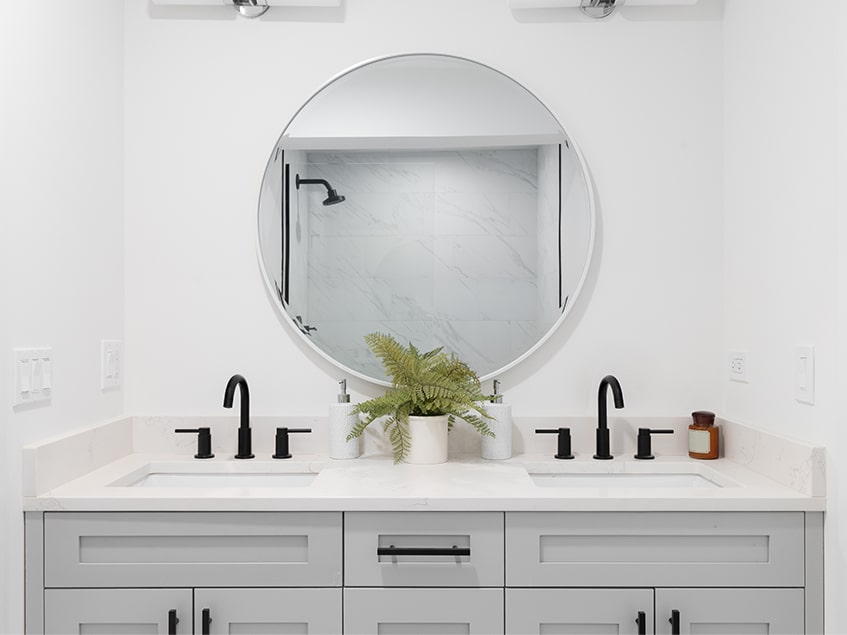 A bathroom vanity with sink typically includes a countertop, sink, and storage space. It is a popular addition to bathrooms as it can provide a functional and stylish focal point for the room, depending on your choice of sink style. They can come with a variety of sink styles like undermount, drop-in, or vessel sink. They also come in a wide range of styles, materials, and sizes to suit different bathroom designs and needs. These sinks can be made of wood, stone, or engineered materials like laminate or solid surface. The sink can be integrated into the vanity top or be a standalone piece. With this style vanity, you can still add additional features like drawers, cabinets, or open shelving for storage.
There are so many DIY ideas for bathroom vanities, overall it just depends on your style preferences. But whatever your preference may be, Cabinet Showroom has exactly the style cabinets you need to create your dream space, and affordable pricing. So, on your next big home project, consider shopping with the best kitchen and bath design team at Cabinet Showroom