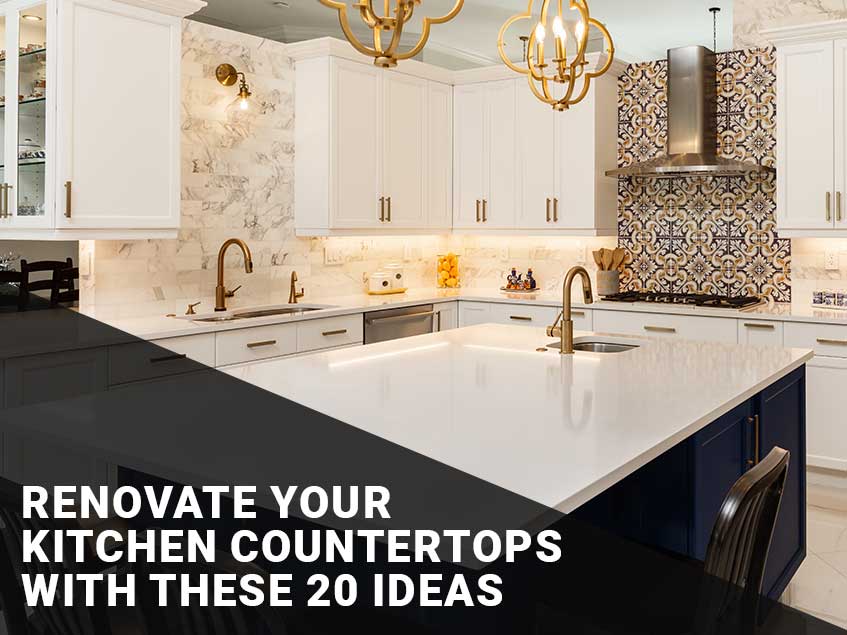 12 Jan

20 Ways to Renovate Your Kitchen Countertops in 2023

It's the New Year and with the incoming of a new year, it's the perfect chance to renew your home with a kitchen renovation! One easy way to give your kitchen a facelift is by switching out your kitchen countertops. If you are on a tighter budget, kitchen countertops replacement is a way to dramatically improve the appearance of your kitchen and allows you to save on the kitchen renovation cost. In this guide, we will show you 20 kitchen countertop ideas to give you the inspiration to get you closer to your dream kitchen.
1. Repaint Your Countertops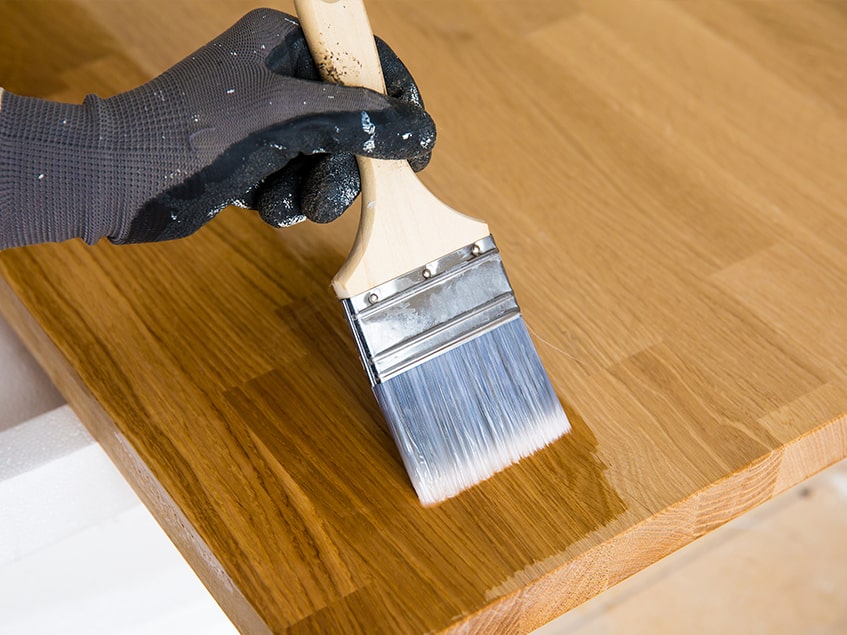 One of the quickest and easiest ways to revamp your countertops is to put a fresh new coat of paint. Paint will make your countertops look fresh and new. You can renew the same color, or you can switch it up with a whole new color scheme.
2. Use Patterned Contact Paper
Don't underestimate the power of contact paper! It's not just for walls. They come in many wonderful colors and patterns; you may get lost in the rabbit hole of choosing the best design for your kitchen. However, finding the pattern that you are happy with is well worth it, and you will save a ton of money by applying it to your kitchen countertop. What's even better is that they are easy to remove and replace with a new style whenever you feel the need.
3. Create Waterfall Countertop Design
This is a unique way to create a new and dramatic look to your kitchen, It protects the base of your cabinets, and you can have more hidden storage space. These cabinets stand out more in minimalist kitchen designs.
4. Jazz it up with Terrazzo
Terrazzo is a mix of recycled materials such as pieces of quartz, marble, and more. This design is bold and eye-catching and can create a boho chic feeling.
5. Get Eco-conscious with Recycled Glass Counters
If you want to remodel in an eco-conscious way, recycled materials is the way to go. Recycled glass counters look amazing and reduce your carbon footprint at the same time. You should treat these cabinets with extra care because they can be damaged with heavy uses.
6. Get Laminate Counters
Laminate counters are budget friendly and simple to install and are super customizable because you can paint them or add contact paper. It's easy to switch the vibe up with how you customize them!
7. Granite Kitchen Countertops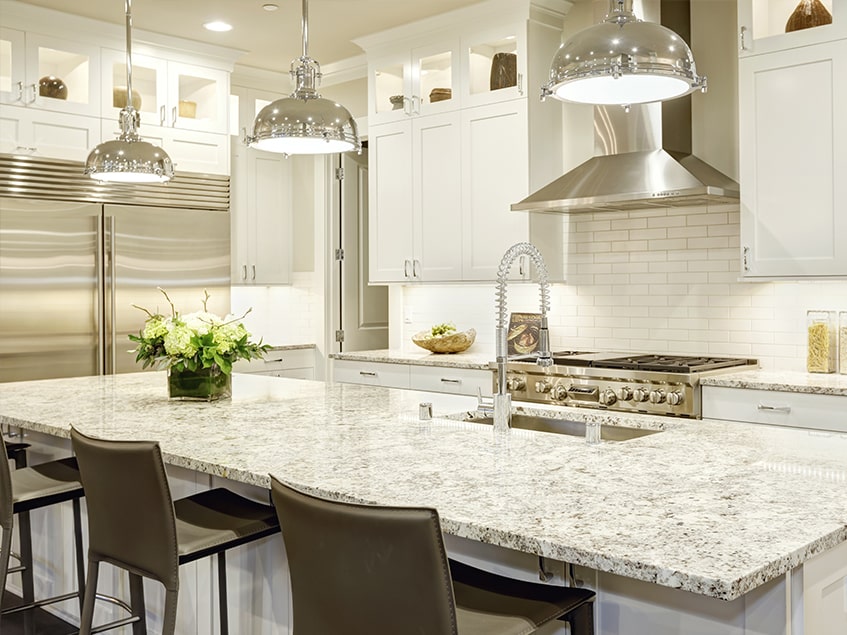 If you're looking for a tough yet sleek design, give granite countertops a try. These countertops are made to withstand heavy use.
8. Porcelain Countertops
These countertops have a light and graceful appeal, they are easy to clean, and heat resistant. They are even stronger than granite countertops believe it or not. Porcelain can come in a variety of colors so do not feel limited to whites.
9. Stainless Steel Countertops
Stainless Steel creates a very sleek and modern look for kitchens. These countertops will remind you of fancy restaurant kitchens and make you feel like a professional chef even if you aren't.
10. Copper or Bronze Metal Countertops
If you love the cottagecore aesthetic, copper or bronze metal countertops will be a great start to achieving the style for your kitchen. The warm colors will create a down-home country feel. They are versatile and can be used to create a modern city look as well.
11. Soapstone Countertops
Known for being low maintenance and easy to clean, these countertops are also more sanitary because there are no pores on the surface for nasty germs to hide while you're cleaning.
12. Quartz Countertops
Although these are natural stone countertops, they are super durable and worth the pricier investment. They are beautiful and luminous, but you should make sure to always place barrier between hot pots and pans and the countertops because they are temperature sensitive.
13. Marble Countertops
Marble is a classic that has a similar appearance to porcelain, it is heat resistant and naturally cool to the touch. It is perfect for those who are always preparing meals and baking!
14. Concrete Countertops
These are popular for makeovers because of their high customization options in regard to color, height, shape, and edges. Make sure to regularly wax the surface to maintain the counter for many years.
15. Bamboo
Did you know that bamboo has natural anti-bacterial properties? That makes them a winning material for kitchen countertops. There are various styles and patterns to choose from and they have the ability to make smaller kitchens look larger depending on the design.
16. Try Epoxy Resin Countertops
If you are looking for a cool DIY project, epoxy resin countertops are something to look into. This project involves pouring resin over your existing countertops. You can choose whichever colors and styles you want!
17. Install an Island
Increase your kitchen counter space with a kitchen island if you don't have one already. Cooking is so much more enjoyable when you have more space to spread out your meals and cookware.
18. Install Built-In Cutting Boards
This suggestion is a modification to countertops that can improve both the looks and functionality of your countertops.
19. Install a Countertop Trash Chute
This is an amazingly smart idea because it eliminates the need to bend over or grab a trashcan to get rid of the garbage from your countertops. All you have to do is slide it over to the trash chute and it's gone! Trash chutes speed up your meal preparation process.
20. Butcher Block Counters
These counters come in various wood thicknesses and different price points. They work just as you would imagine from the name, they are sturdy for chopping and preparing foods. They have a unique country style that works well with cottage or farmhouse aesthetics.
Ready to Remodel Your Kitchen?
Now that you have seen some of the wonderful ways that you can revamp your kitchen by changing your kitchen counters, you may have a good idea of how you want to style your own counters. Check out our photo gallery for more ideas. We do free kitchen designs if you plan to make major overhauls to your kitchen. We're here to help so contact us today!