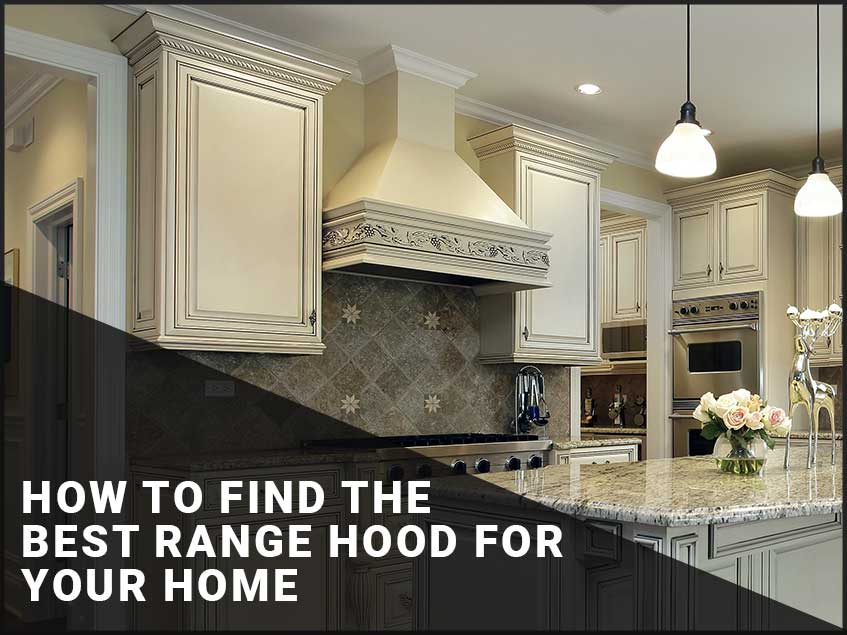 15 Dec

How to Find the Best Range Hood for Your Home – Cabinet Showroom

The least cherished but the most precious aspect of the kitchen comes down to the range hood, found over the stove. This integral part of the kitchen appliances is the most underrated piece of any kitchen. When you're cooking up those hardy meals for the family, the range hood is partially responsible for cleanup. That's why choosing the best range hood for your kitchen is so important.
What does a range hood do?
From kitchen smells, grease, stains, and more your range hood plays a significant role in keeping your kitchen in order. Range hoods help remove grease from the air before it can settle on kitchen surfaces through ventilation. The powerful fans within the range pull the air around the cooktop through the filters or into a duct and out of the house. Essentially, getting rid of all smoke residue, heat, moisture, or left-over food particles, so that it doesn't contaminate the air in your home or even your food.
Does every house need a range hood?
To answer your question simply, yes. Every house does need a range hood vent. The benefits of having a range hood outweigh the risk. The purpose is to purify the air and clean the space in your home after cooking. The more complex question is what range hood works best for your home?
There are a couple of things for homeowners to consider when searching for the right range hood for their kitchen. Although style is definitely a factor, it's not the most important consideration when looking for your appliance. There are many things to consider, such as:
1. Cleanliness and Upkeep
Range hoods play a centrical part in your kitchen design, but for more reasons than one. A big part of their job is to clean the kitchen air through filtering out the bad particles of grease and food. This helps prevent food build up on cooktop, countertops, and kitchen wall backsplashes. So, making sure your range hood is easy to clean and maintain is crucial to its daily function.
2. Hood Range Quality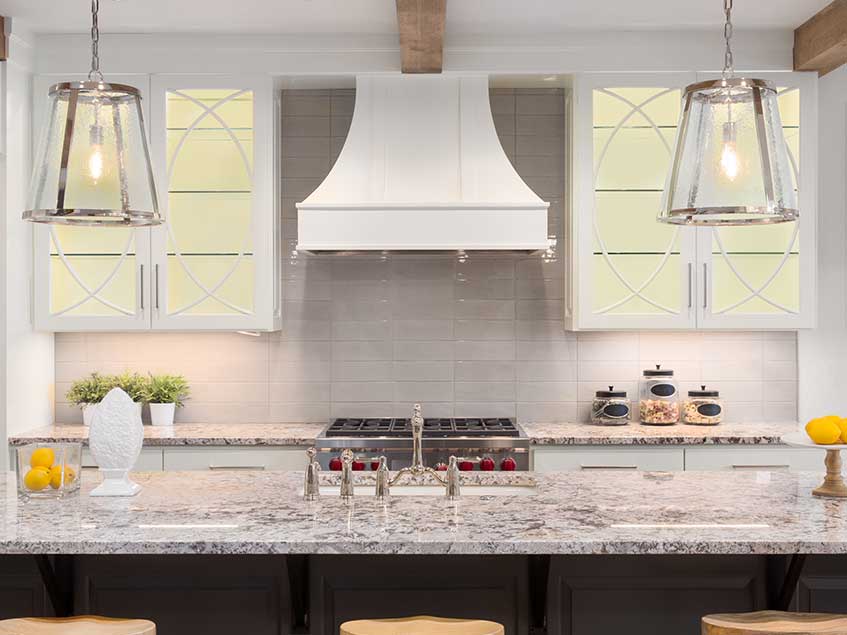 Something for homeowners to consider is the quality of the range hood. Because having proper ventilation is a must in any home environment, your hood must be able to meet the standards and then some. The add on features are just as important. Most range hoods come with light panels under the hood, which is great to have to add to your kitchen quality and convenience. Also, automatic heat-sensing range hoods are very useful while cooking to prevent heat accumulation and fire alarms. Having an electrical modern stove comes with its benefits when you have push-button and digital electronic panels to customize the airflow exactly as is needed. With some brands and models, even the range hood can be controlled on your favorite devices, so you can change the settings from any room.
3. Kitchen safety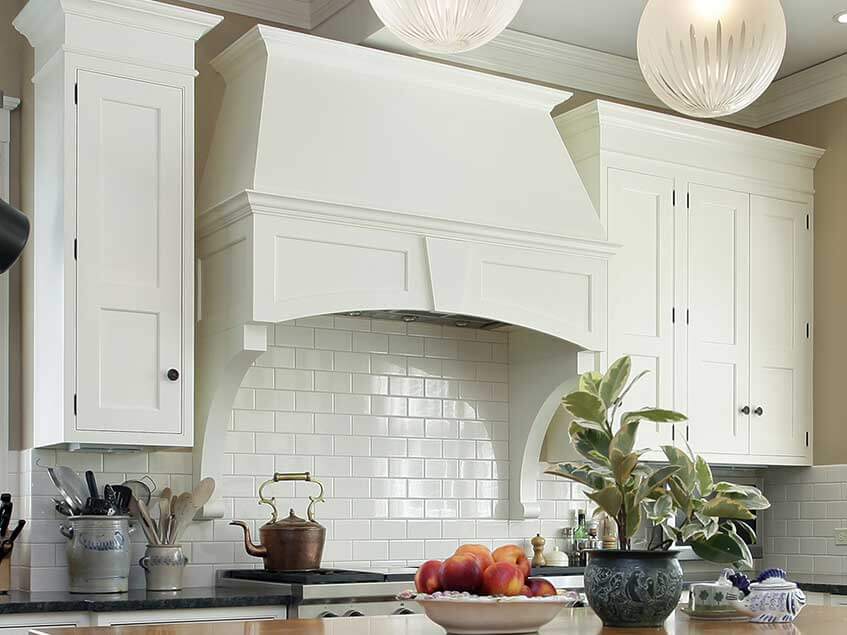 What's most important is your safety in the kitchen. Smoky air can cause concentrated fumes and gases such as carbon monoxide to accumulate unnoticeably. A hood that's easy to clean and change the filter is best to gain clean air as soon as possible, and remove the dangerous air entirely, for the safety of your whole household.
After considering the necessary functions needed for your range hood, the next step is deciding which type of range hood works best for your kitchen. There are a few types of hoods that require different installation methods. So, it is pertinent to establish which range hood style is good for your home. Something to consider while deciding is the durability, maintenance, and design of your kitchen. Knowing this will help to give you a better idea of which hood type will make cooking more convenient at home.
Best Range Hood Types
– Wall Mounted
If you have open space between your kitchen cabinets, this range hood type is optimal. Wall-mounted range hoods are some of the most traditional-looking types of range hoods. Attached to a wall rather than to a ceiling or cabinetry, it gives a well meshed look with your stovetop.
– Under- Cabinet
The most-commonly used style of range hood, under cabinet range hoods compliment modern designs and provide a functional and economical way to incorporate the hood into the cabinets. This option affixes to the bottom of your cabinetry over your range and can easily be integrated into your existing space. Under-cabinet storage space makes a great option for homeowners with a smaller kitchen layout. By allowing upper shelf-storage space above the stove and range, you also give yourself more counter space to work with in the kitchen.
– Island
If your stove top is housed on your kitchen island, this is your best range hood option. These range hoods hang from the ceiling above a kitchen island, hence their nickname as chimney hoods.
– Insert
Insert range hoods are designed to fit into a custom hood cover. If you have an unconventionally shaped kitchen or if you want to ensure that your range hood fits in with your kitchen's unique style, these range hoods are optimal. Many insert range hoods are ducted, but some super subtle models are ductless. Ductless insert range hoods aren't as powerful as ducted models, but they can be placed right up against the bottom of a cabinet and tend to be easier to install.
What Shape Hoods Are Available?
Cabinet Showrooms has all the styles you could wish for in a kitchen range hood. We offer modern wood hoods in different styles, shapes, and sizes which are sure to turn your kitchen into a trendy style statement. Range hoods typically come in 5 shapes:
Choosing which style best fits your kitchen is usually the fun part! No one wants appliances that look like they're thrown into the kitchen layout. Your appliances should match your design. Whether you're looking to style your kitchen with a modern, farmhouse, or traditional design, your range hood should fit right in!
After deciding on your shape, choose your preferred variety of paints and stains from the Cabinet Showroom and turn your dream kitchen into a reality. And when it comes to utility, Cabinet Showroom's wood hoods are compatible with a two-piece system installation system (apron and chimney) which is the recommended ventilation systems.
There are a few ways to style your hood to your kitchen design liking.
No matter what kind of kitchen hood you're looking for, Cabinet Showroom have you covered. The hood styles you can choose from are curved, tapered, sloped, box, angled, and unfinished square. From here you can choose if you want any strapping or shiplap, just for a little extra decoration. Curved, tapered, and sloped can have wood, brass, or steel strapping, and tapered and box can have shiplap. Feel free to explore all the possible options for your kitchen. Each range hood is the same great quality, so it all comes down to what you think will work the best for your kitchen. Whether you're looking for something classic or a sleek, modern look, you'll find something that matches your style exactly at CabinetShowroom.com.
Why Buy Range Hoods from Cabinet Showroom?
When you buy from Cabinet Showroom, you're buying a quality product for your home. Our cabinets and range hoods are made with quality materials, are cost-effective, and can be made to fit any style of kitchen. In addition to offering quality products, Cabinet Showroom is happy to offer quality customer service. You can call us with design questions, price questions, or for help with cabinet assembly. Check out our selection and find the perfect final piece