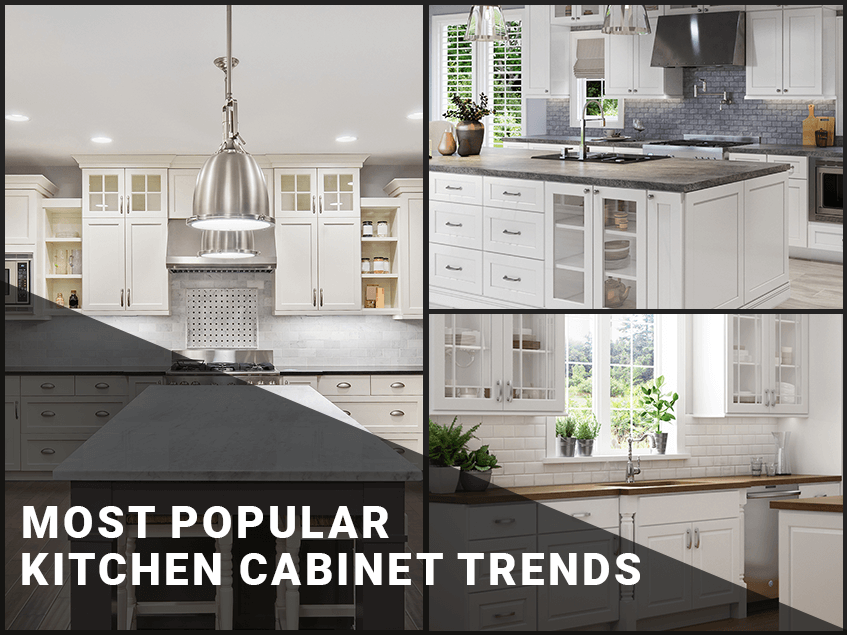 03 Nov

Most Popular Kitchen Cabinet Trends – Cabinet Showroom

We all want a trendy kitchen worthy of an HGTV show, and it all starts with the cabinets. But how do you go about keeping up with the latest kitchen trends when there's so much information out there? That's why we've put together this article to fill you in on current kitchen cabinet trends. From here you'll have no trouble figuring out what trends to incorporate into your own kitchen, and you'll be one step closer to the picture-perfect kitchen of your dreams.
The Most Popular Cabinet Types are Simple, Shaker Cabinet Styles
Minimalism is still the most popular style for kitchens, and for a good reason. This style is as sleek and beautiful as it is low maintenance, it creates a space without many distractions, so you can focus on meal preparations. Shaker-style cabinets are the way to go thanks to their minimal design. They have little to no decoration and come in simple colors, both of which fit the minimalist design perfectly. And because they have little decoration, there are less hard to reach places to clean. Taking care of a minimalist kitchen is easy and painless, which makes picking this design for your kitchen a great choice.
Neutrals are the Way to Go, but Wood is Still Popular
The most popular kitchen cabinet color trends today revolve around neutral colors. Colors like white, grey, blue, and brown are top of the list thanks to their versatility and simplicity. Colors like white and grey will make your kitchen look clean and nice, brightening up your space. It's perfect for a kitchen with a lot of natural light. White is especially good if you have a busy kitchen, and you need a more neutral base to work with. It's also versatile and easy to paint, allowing it to blend into any space easily. Grey will make your space seem calmer because it's a softer color, and it'll give your space a rustic touch while accenting hardware and other wooden features. If you want some more color in your space, blue is an excellent choice. It's a good, gentle color but still adds something interesting to your space. If you're all about wood in your space, we have good news for you. Wood works with everything and comes in a wide array of varieties! Pick dark wood, light wood, wood with a different grain pattern, pair different types of wood together with other colors, it'll all work together to give you a super interesting space. Neutrals may seem boring or plain, but there are so many different possible combinations, they provide a great base. There is still plenty of room to play around, especially if you want neutral colors to balance out bright décor in your kitchen.
Two-toned Cabinets are Popular
One of the most popular kitchen cabinet color trends in 2022 is two-toned cabinets. Two-toned cabinets are a fun way to add some dimension to your kitchen. Neutral colors and wood tend to work well together, so give it a try! Or try out two different colors of cabinets. It can be easy for one color to take over in the kitchen, and using different colors is a creative way to prevent this from happening. Plus, it adds something interesting to your kitchen. It's an easy way to add a little more color, and it's guaranteed to be a lovely addition to your kitchen.
Floating Shelves are Popular
If you're someone who loves displaying fun items in your kitchen, you'll be happy to know that floating shelves are super trendy right now. These simple shelves go a long way in adding complexity to your space. You can put anything you want on them, but popular choices are utensils or fancy dishes. What's more, these shelves perfectly fit the minimalist aesthetic that's so popular. Their simplicity lends itself to clean minimalist spaces, and they're easy to install in your kitchen. Be sure to check out Cabinet Showroom's selection of floating shelves. They come in a variety of sizes and colors, so you'll find the perfect shelves for your space in no time at all.
Conclusion
If you're looking to update your kitchen, researching popular kitchen cabinet trends is the best way to ensure your remodel is heading in the right direction. It's a surefire way to keep your kitchen trendy and modern. You might think that you need an interior decorator to have the trendiest kitchen, but the truth is all you need is yourself and a list of trends. Find your favorite trends and you'll have your own Instagram-worthy kitchen in no time. Also, remember to pick what works best for you. There is a lot of room to play, even while sticking to a trend or style, but your kitchen should be your own, so go for whichever trendy aspects make you happiest.
Why Cabinet Showroom?
The Cabinet Showroom is here to help you pick out new and trendy cabinets. Not only do they offer quality kitchen cabinets, but they also offer floating shelves and cabinet organizers to take your kitchen remodel to the next level. Our cabinets come in a variety of colors guaranteed to fit in any style of kitchen, especially trendy colors like white, grey, and brown. You can order samples of our cabinets to try them out in your kitchen. Once you've settled on a particular cabinet, you can see it in your kitchen with our Free Kitchen Design tool. Tell us your chosen cabinet style, your kitchen's measurements, photos of your kitchen, and your budget and we'll send you a 3D design of your new cabinets in your kitchen. If you're looking for some inspiration for your remodel, check out our gallery and see how our cabinets can make your space look amazing. When you shop at the Cabinet Showroom, we guarantee that you'll have a great shopping experience. Browse our wide selection of kitchen cabinets and paints/stains and get started building the kitchen of your dreams with us today!