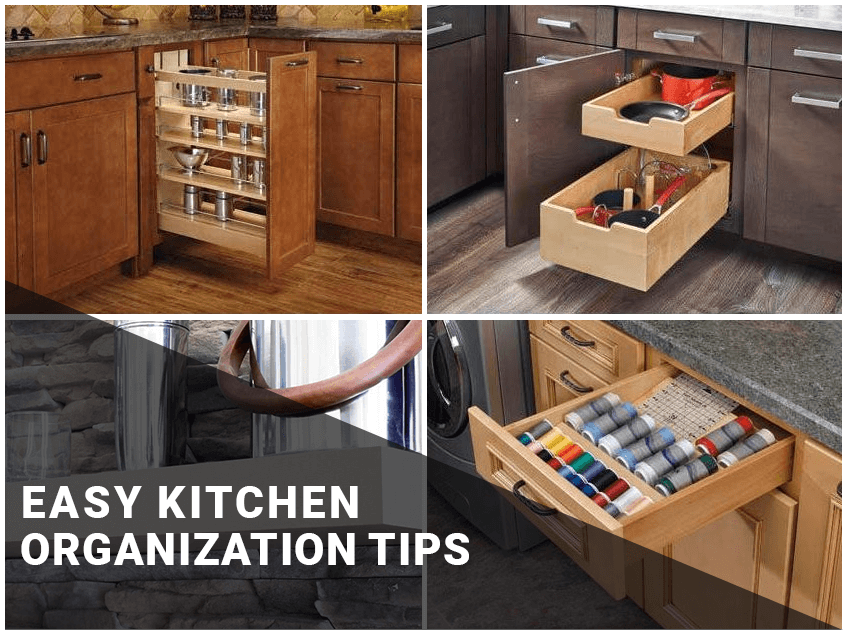 09 Sep

7 Tips to Easily Organize Your Kitchen

Have you ever thought about how much time you spend cooking in your kitchen? Or your kitchen is disorganized, which adds to your frustration while cooking. If so, it's time to find some solutions. With these handy tips, we've got some excellent news for you: Your home's kitchen can become much more organized than ever! Read on for helpful tips and tools to make your kitchen look fantastic and make your cooking time a breeze!
Use Everything You Already Have
This one is rather obvious, but we'll say it anyway: If you already have a certain item in your kitchen, use it! Even if it's not perfect, it will help you get by until you can get new items. If you have appliances lying around in the kitchen that you never use, put them in storage, give them away to someone, or sell them online. If you want to add some color to your kitchen, look no further than your spices. They're cheap, widely available, and come in various colors, so you can quickly freshen up your space. Displaying them will bring a pop of color to your kitchen.
Color Code
If you want an idea of how to organize kitchen cabinets, try dividing your items with a color code system. This technique is cheap and easy! You can use different colors for different types of food or various other categories. You can even create color-coding systems for different of people in your family. This technique will help you figure out which items are meant for which person, and you'll never have to go searching for an item if someone needs it (or forget where it is!).
Install a Countertop Organizer
If you spend a lot of time in your kitchen, you may find that things like specific utensils, pantry staples, or ingredients begin to get mixed up. If this happens, it can be challenging to find something that you want to use, and you may even start to make mistakes! Countertop organizers can be beneficial in keeping your kitchen organized. These organizers can also be very helpful in preventing injury in the kitchen by reducing the risk of cutting yourself with a dull tool or getting a splinter while collecting items.Countertop organizers help you display your spices for that pop of color as mentioned before.
Hideaway hardware and gadgets
If you use certain kitchen items often, you may want to look into ways to hide them away. This can be helpful if you don't want certain items to be in plain sight. For instance, if you use a lot of knives in your kitchen, consider putting them in a knife block. This will keep them organized, and it will prevent them from getting knocked around and getting damaged. Some other items to consider hiding are certain appliances, tools, or other things that you don't use very often. For instance, if you have a coffee machine in your kitchen, consider hiding it away somewhere in the kitchen so that it doesn't get in the way. Again, this can keep your kitchen looking neat and organized. Consider adding some cabinet pieces on if your cabinets have nowhere to hide your kitchenware.
Get a Kitchen Cabinet Organizer
If you're looking to add more shelf space to your kitchen, a kitchen cabinet organizer can be beneficial . These organizers can be installed into your kitchen cabinets and are removable, so they can be removed as needed. They're also lightweight and can be easily moved around as needed. If you're looking to add more storage space to your kitchen, a cabinet organizer can help a lot! Cabinet organizers come in various styles. Pegboards are all the rage these days. Removable under-sink caddies can fit any size sink base cabinet. to can be easily purchased online for affordable prices.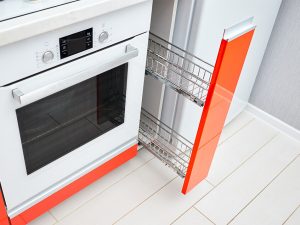 Utilize Floating Shelves
If you're short on space in your kitchen, floating shelves can be very helpful. These shelves can be easily installed above your kitchen counters and empty spaces on your walls. If you have a small space in your kitchen, these floating shelves can help you create more storage space for your items, and they can also help you keep your kitchen looking neat and organized. If you're looking for more storage space in your kitchen, floating wall shelves are a great option. These shelves are lightweight, and they can be easily placed on a counter or mounted on a cabinet. You most likely have empty corner space, so utilize that corner by placing floating corner shelves there as well! If you are worried about them matching the rest of your kitchen decor, white floating shelves are perfect because white goes with everything. You can find dependable and strong floating shelves here!
Get a Range Hood with Storage
If you have an old-fashioned range hood in your kitchen, you may start to notice that it gets in the way more than you think it should. If that's the case, you can easily solve this issue by installing a range hood with a storage capacity. These range hoods come with various storage options; some kitchen hood ideas include incorporating drawers, cupboards, or other types of storage. This will allow you to utilize the space inside your range hood and keep your kitchen looking neat and organized.
In Conclusion
Your kitchen is where you spend a lot of time, so it's important to make it as comfortable as possible. You don't want to spend all your time in there being frustrated by poor organization. These tips will help you create a more organized kitchen and make cooking more enjoyable. These tips will also help you save some time and get more done in your day. So, get organizing and find your favorite ways to make your kitchen more efficient!
Ready to Renovate Your Kitchen?
Cabinet Showroom has everything you need to create the kitchen of your dreams. Contact us today to learn how we can serve you! Request a quote from us and get a Free Kitchen Design!
FAQs