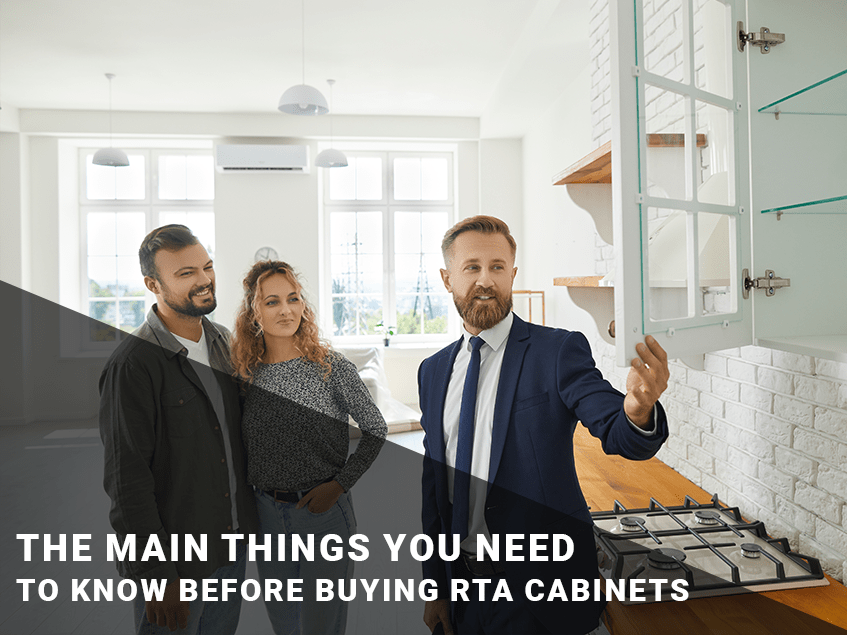 27 Jul

The Main Things You Need to Know Before Buying RTA Cabinets

If you are considering kitchen remodeling or renovating a new house, you might be interested in purchasing Ready to assemble (RTA) cabinets. These pre-built cabinets offer many advantages over traditional custom cabinets and are a great option if you have limited time and resources to invest in a major kitchen renovation project. Read on to learn everything you need to know about buying RTA cabinets before you make the decision to buy them.
What is the Difference Between RTA Cabinets and Assembled Cabinets?
When you purchase assembled cabinets, you are buying cabinets that have been assembled at the factory. This means that all the cabinets were built together, so you only need to bring them into your home and place them where you want them. RTA cabinets, on the other hand, are cabinets that are delivered in pieces that you then need to put together yourself. This means that you will do some extra work during the installation process, but it also means that you have the freedom to customize your RTA cabinets however you like.
The 4 Main Factors of Choosing RTA Kitchen Cabinets
Cost –

How much do you want to spend on your cabinets? This will help you figure out which type of cabinets are within your price range.

Space –

Where will you be putting your cabinets? The size of your space will help you determine which type of cabinets are right for your space.

Design –

How do you want your cabinets to look? Your desired design will help you select the right type of cabinets.

Ease of Installation –

Do you have the skills and time to put together cabinets or would you rather have the professionals do it for you?
What Should You Look for in RTA Cabinets?
Quality- You want your cabinets to be sturdy enough that they don't sag or bend, and RTA cabinets are usually made from low-quality materials that are flimsy. A good way to check for stiffness is to give the cabinet a good shake. If it rattles, it's not a good option for your kitchen.
Doors – Most RTA cabinets come with doors, but you do want to check to make sure the doors are of good quality. You also want to make sure that the doors and drawer fronts match, which is something you don't have to worry about with custom cabinets.
Drawers – You want to make sure that all of your drawers and cabinets are functional and usable. If the drawers are too narrow, they won't be very useful. – Wood types – You want cabinets and drawers that will last a long time, which means you need to select a wood type that is sturdy. You can look at the fine print on the RTA cabinet boxes to see what types of wood are being used.
In Conclusion, RTA Kitchen Cabinets are a Great Investment
Ready-to-assemble cabinets are a great option if you don't have the time or skills to build custom cabinets. They are easier to install than custom cabinets and they come in a wider variety of styles and finishes than premade cabinets. Before you buy RTA cabinets, make sure you know the 4 main factors of choosing RTA cabinets and what you should look for before purchasing them. Now that you know everything you need to know about buying RTA cabinets, you can make an informed decision about the type of cabinets you want in your kitchen.
Ready Make Your RTA Cabinets Purchase?
If you are interested in buying RTA cabinets, you can visit Cabinet Showroom for a fantastic selection of RTA cabinets. If you buy online, you get to see all the types of cabinets and finishes available, however, you can also visit our showroom in Atlanta where you can look at different options in person! Always check our website for special codes for unbeatable discounts. Contact us today for questions about our products!
FAQs
Are RTA Cabinets Expensive?
RTA Cabinets are less expensive compared to assembled cabinets.
Can I buy RTA Cabinet online?
You can purchase RTA Cabinets online at cabinetshowroom.com
Where is the best place to buy RTA Cabinets?
Cabinetshowroom.com is a great place to by RTA Cabinets online or in-store.
Do I have to install RTA Cabinets Myself?
You can install RTA Cabinets yourself, or you can contract someone instead.
How long does it take to install RTA Cabinets?
RTA Cabinets can be installed fairly quickly, if you have trouble installing the cabinets consult the store or watch instruction videos.