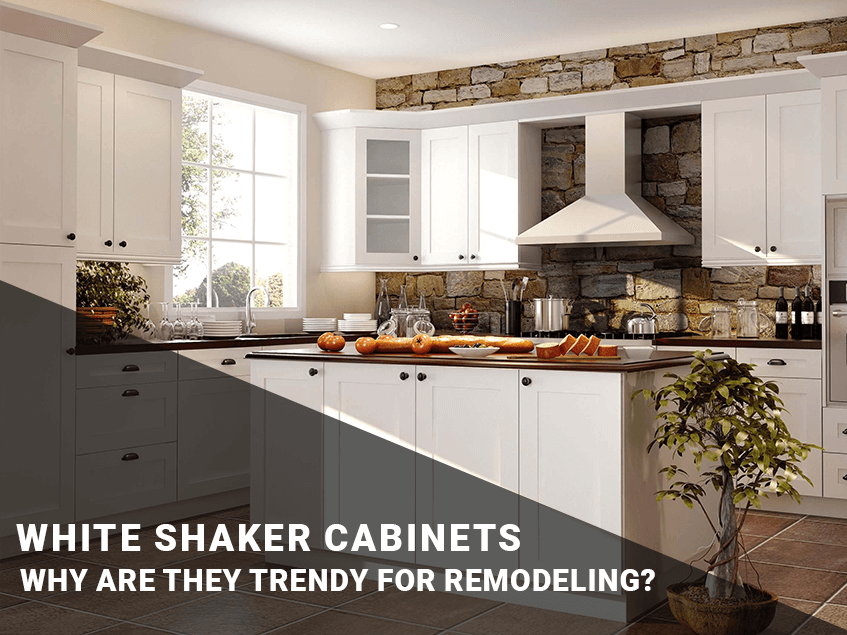 02 Jul

White Shaker Cabinets: Why are They Trendy for Remodeling?

White shaker kitchen cabinets are a trend that's here to stay, which is excellent news for anyone who wants to furnish or remodel their kitchen without breaking the bank. These classic, affordable kitchen cabinets have been around for decades, but they're making a comeback with a new look and a lower price tag.

White shaker cabinets are minimalist, neutral, and versatile enough to work in almost any home. In short, they combine all the best qualities of both modern and traditional kitchen designs into one affordable package. Let's take a closer look at what makes these cabinets so appealing right now—and why they could be just what you need to refresh your space on a budget.
Their Design Transcends Time
The white shaker kitchen cabinets trend is all about the timeless, classic aesthetic they create. These cabinets were already popular decades ago, and they're just as in demand now as they were back then. They're a great choice for anyone looking for cabinets that will work in any decade—or even multiple decades. If you're starting a remodel, or re-staging your home for sale, white shaker cabinets are a great choice. They look modern and clean, but they also add a classic touch that will appeal to a wide range of buyers.
White Cabinets Adds Light to the Room
If you're remodeling a dark-colored kitchen, white shaker cabinets can help lighten the space. A kitchen with white cabinets can feel much more spacious and airier than a kitchen with darker cabinets. If you have a smaller kitchen, open it up with light, airy white cabinets. Even if you have a large kitchen, white cabinets can help make it feel more spacious. White cabinets are one of the most versatile tones you can use for kitchen cabinets. They pair well with just about every color scheme, and they look equally good in both modern and traditional kitchens.
Rather Easy to Clean
White shaker cabinets are easy to clean, which is always a plus for busy households or messy cooks. To clean your white cabinets, just wipe them down with a clean rag and warm water or spray them with your favorite all-purpose cleaner. If you have particularly dirty or sticky spots, you can also use baking soda to scrub them off clean. White cabinets are also low-maintenance, which is a bonus if you're the type of person who forgets to clean the kitchen (or any part of the house) on a regular basis. If you're not, though, you can always add a coat of sealer to make them even more stain-resistant.
Matches Almost Everything
White shaker cabinets are a great choice if you have a lot of different design elements in your kitchen. That's because they match almost any other color that you have—or even multiple colors at once. Let's say you have a blue-and-white color scheme going on in the rest of your kitchen. That leaves out the yellow, green and purple options, but white cabinets are a neutral that will look great with any of those colors. If your kitchen has a lot of other different elements—like decorative tiles, light fixtures, rugs, or artwork—white cabinets can tie them all together.
Creates Illusion of More Space
White shaker cabinets are a great fit for small kitchens. They're very spacious-looking, and they can help the room feel more open and airier. Open shelving and clean, uncluttered lines are a big part of what makes white cabinets feel so spacious. If you have a smaller kitchen, or an oddly-shaped kitchen, open shelving can also make your space look larger. Open shelving is also a great way to add decorative touches to your cabinets. You can display your most treasured kitchen tools, bring a pop of color into the room, or just make the space feel more personalized.
Easier to Resale
If you ever decide to move, white shaker cabinets are a great choice if you're trying to resell your home. That's because they're very neutral, and they don't have a lot of extra details that would make them harder to sell. That means you don't have to worry about coming up with a bunch of creative ways to repaint or redesign your cabinets if you decide to sell your house. You can just slap on a fresh coat of white paint, and they're good to go. The best part is that even if you don't plan on selling your house any time soon, white cabinets are still a great choice. They're durable, low-maintenance and easy to clean, so you won't have to spend a lot of time or money taking care of them.
Ready to Start Your Remodeling Journey?
White shaker cabinets are the best option if you're looking for a clean, modern kitchen with a classic twist. They're very affordable, easy to clean, and they match almost any design style. Not to mention, they're easy to repaint and make a kitchen easier to resell. Ready to update your kitchen? Check our selection of Shaker Cabinets at Cabinet Showroom!
White Shaker Cabinets FAQs
Is white still popular for kitchen cabinets?
White is very popular for kitchen cabinets because they match most kitchen designs.
Why should I choose shaker style cabinets?
You should choose shaker-style cabinets if you prioritize a timeless look, versatility, and budget-friendliness.
Are white kitchen cabinets much harder to keep clean?
White kitchen cabinets are not harder to keep clean than any other cabinets.
What are some good backsplash ideas with white cabinets?
The beauty of white cabinets is that almost any backsplash of your liking works, great ideas include dark or hexagon marble to add depth and contrast to your kitchen.