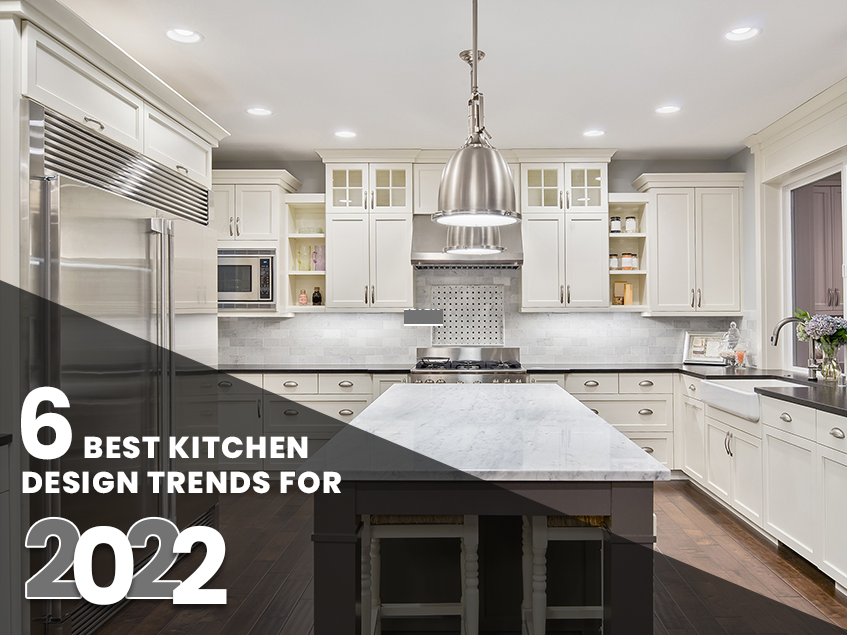 12 May

6 Best Kitchen Design Trends For 2022

Kitchen designs are meant to be an investment that will endure for many years, not something you'll regret a few months after installation. There are always so many trending kitchen designs that it is difficult to tell which ones are fads and which ones will endure for many years. We've compiled the six best kitchen design trends for 2022 that will remain popular and beautiful for many years to come.
Backsplash to the Ceiling
We've cut backsplashes off at the bottom of upper cabinets for many years, but who says you must? After all, kitchen messes aren't contained in that small space, and the whole point of a backsplash is to protect your walls from messes. We think backsplashes that extend to the ceiling are one of the kitchen design trends in 2022 that will stick around for a long time because of their practicality and unique aesthetic. Having a backsplash that extends to the ceiling protects your kitchen from larger messes and is much easier to keep clean. Upkeep will be easier, and your kitchen will look much cleaner. This 2022 kitchen trend also allows you to personalize your kitchen more. Backsplashes can create focal points for a kitchen, or they can tie it together. A backsplash that extends to the ceiling can draw people in with a unique style that is all your own or seamlessly blends the kitchen together. Backsplashes that extend to the ceiling are one of the trending kitchen designs that allow you the most freedom to create a unique kitchen that shows your aesthetic.
Black and White
A black and white color scheme is a popular kitchen design trend in 2022. Contrasting black and white is a timeless look for any kitchen, especially if you are going for a modern style. Getting
white shaker cabinets
to pair with black countertops or other features is a popular 2022 kitchen cabinet trend that will give your kitchen a beautiful, clean look that will age like a fine wine.
Big Islands
An interesting kitchen design trend of 2022 is the rising popularity of large islands in kitchens. After spending so much time apart, people want to host more people for dinner parties. A large kitchen island makes for an excellent gathering plate to entertain and enjoy appetizers while the dinner finishes cooking. This trending kitchen design is best for large kitchens with space to fill. You still need room to finish cooking without being crowded in by your guests after all.
Warm White and Earthy
Some people feel that white kitchens are cold, overly sanitized, and not very homey, but that doesn't have to be the case. An emerging kitchen design trend in 2022 is to have a warm white kitchen with an earthier tone. It's an outstanding balance of both, you still get the clean look of a brighter white kitchen where light easily bounces around, but it feels homier. The muted, earthier tones help ground the kitchen to help you feel more relaxed in it. Kitchen cabinets such as our
York Linen cabinets
are popular purchases for this 2022 kitchen cabinet trend.
Mixing Metals
Mixing metals has become a popular kitchen cabinet trend in 2022 because it allows you to personalize your kitchen more than you would by just having one, maybe two, metals and sticking with them. You no longer need to stick with a single metal for all your kitchen's hardware finishes. If you like brass and stainless steel, you can use both. If nickel looks excellent for your faucet and black looks great on your cabinets, then mix it up.
Shaker Cabinets
This 2022 kitchen cabinet trend is never going anywhere.
Shaker cabinets
are timelessly beautiful and work with many different kitchen designs and aesthetics. They work in everything from traditional to rustic to modern-style homes. With such versatility, you know that once they are installed, they will last for many years to come, even if you completely change your kitchen style. They will still match.
Conclusion
Designing your kitchen is an enormous, expensive task, and, understandably, you want to make sure the direction you take it in is something you will love five, ten, even twenty years from now. While many new kitchen design trends in 2022 will fall off in a year or two, we are confident these will stand the test of time. When you've found the style, you want to go with, AVA Cabinet Showroom has high-quality cabinets that will help elevate your kitchen.
Get your kitchen cabinets
today!